Asthma and anaphylaxis emergencies in the Workplace Course – Accredited Course
22282VIC – Course in the management of asthma risks and emergencies in the workplace
22300VIC- Course in the first aid management of Anaphylaxis
Group Booking Discounts Available and this training can be delivered at your workplace for groups, please enquire about our competitive pricing for your workplace training visit today.
Is the course nationally accredited?
Workplace Level 2
Senior first aid
First aid refresher
Apply first aid
HLTFA311A
Group Booking Discounts Available
Asthma and anaphylaxis emergencies in the Workplace Course – Accredited Course
About Asthma and anaphylaxis emergencies - First Aid Pro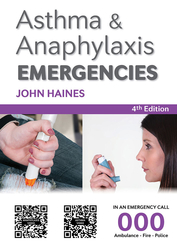 This full colour 64 page Learners Guide is FREE to every participant    * Conditions apply
This 4-hour course will provide you with an understanding of how to apply immediate First Aid to a person suffering from an anaphylaxis or asthma emergency in the workplace, home, school, in fact anywhere.
The course covers ASCIA Anaphylaxis action plan, Asthma action plan, what to do in an emergency situation, what your legal requirements are to provide First Aid to someone having an anaphylaxis episode or Asthma Attack.
The course is compliant with workplace legislation and meets school, and child care centre requirements. There is an annual refresher required for all people holding this course qualification for currency to be maintained. This course is offered regularly as a public course at various venues or can be tailored to your workplace needs and suitable times.
Prior to attending the face-to-face training, you will be required to complete the pre-course reading, and completed quiz and bring it to the training session on the day. It is a self-paced, self-directed, and mandatory component of the course. The actual number of study hours required for each learner to complete the quiz varies depending on the learners existing knowledge, skills and experience.
Assess the situation
Provide appropriate first aid treatment for anaphylactic reaction
Communicate details of the incident
Correct storage, use, management of epipen adrenaline autoinjectors.
Evaluate first aid response to anaphylactic reaction
Identify individuals at risk of allergic reactions and anaphylaxis
Develop individual's anaphylaxis management plans
Implement strategies to prevent allergic and anaphylactic reactions
Develop and implement a communication plan to raise awareness of allergic reactions and anaphylaxis
Develop Asthma Action plans, how to use them and store them
Skills to correctly administer Asthma reliever medication and relief.
Completing reporting requirements as per legislated standards
ACECQA approved course content and delivery
There are no pre-requisites or co-requisites for this accredited course.
4 hours face to face training. Refresher course 2 hours. Mandatory to update every 12 months.
Participants must be able to demonstrate theoretical knowledge with the practical skills.
Practical exercise- how to use an EpiPen and scenario based
Practical exercise – correct use of an asthma spacer and reliever puffer
Workbook – written answer and multiple choice
group activities, scenarios and verbal questions and answers
Upon successful completion of course, participants will receive a nationally recognised Statement of Attainment from Firstaidpro RTO #40407.
This accredited short course meets the requirements of the Victorian Department of Education (DEECD) and Early Childhood Development for staff working in schools and children services.
First Aid Certificate - Nationally Accredited
Get your fully accredited first aid certificate on the same day.
After successfully completing your training with FirstAidPro you will receive a fully Accredited Recognised Statement of Attainment for your first aid course.