First Aid Course Victor Harbor
FirstAidPro's Victor Harbor training courses are delivered at the Victor Harbor Hotel Crown.
FirstAidPro is located at the Hotel Crown, a hub for shopping and dining in Victor Harbor. It's a short walk from the Warland Reserve and just minutes from the Cockle Train. 
The courses offered at our Victor Harbor training venue include:
New First Aid Codes:
Previously known as:
Victor Harbor Hotel Crown
2 Ocean St,
Victor Harbor SA 5211
Please Note: We may use multiple rooms at the venue. Please refer to your Booking Confirmation Email for the location of your specific course.
Plan for your public transportation with Link SA.
Parking spaces are available but may be limited. 
Paid Parking is available on the esplanade, just a 5-minute walk from the venue. 
Please note that you will access the function rooms via stairs. 

Upcoming Courses in Victor Harbor
View all upcoming first aid and CPR courses in Victor Harbor and book your course online. If you have any questions, please check our FAQ page or call us at (08) 7120 2570.

Upcoming courses at Victor Harbor
Our First Aid Training 
Easy booking process- online, phone or email
Flexible training options- classroom or online
Same-Day Certificate
7 days course availability
Endorsed by the Royal College of General Practitioners
Endorsed by the Australian Royal College of Nursing
Workplace training available
Price Match available



First Aid Course Near Me Victor Harbor 
First Aid Pro Victor Harbor has trainers with years of experience and a passion for helping you learn how to provide assistance in critical emergencies. You will be safe and confident in your skills after booking a course with us!
Complete your course and have your certificate the same day! 
Call us on 08 8382 4677, send us an email, or book here! 
First Aid Certification in Victor Harbor
FirstAidPro is nationally trusted, and that's why our training is supported by leading organisations such as the Australian College of Nursing and the Royal Australian College of General Practitioners.
We're committed to providing the best in first aid training, and we align ourselves with guidelines set by the Australian Resuscitation Council and the Australian and New Zealand Resuscitation Committee.
We offer courses that help you practice your skills under the supervision of an experienced trainer and with the support of other students. Our courses are a great way to gain confidence, as well as life-saving skills.
First Aid Courses Available in Victor Harbor 
Provide CPR
Do you know CPR?
HLTAID009 is a cardiopulmonary resuscitation course that helps you deliver timely and accurate chest compressions and breaths to someone who has stopped breathing or is experiencing cardiac arrest.
In addition to learning how to perform CPR on a CPR manikin, you'll also get the chance to use an AED. These machines are now widely available at businesses such as gyms, supermarkets and more, and can help you by instructing you when to start and stop CPR. It will also notify you when to step back so it can deliver a shock to the casualty.
This course can be completed in just 2 hours, and you will receive your certification the same day. Please note that this course requires renewal every 12 months to remain valid.
Includes:
HLTAID009 – Provide cardiopulmonary resuscitation (CPR)
Provide First Aid
This course will give you the skills to assist in over 20 different illness and injury scenarios. 
This includes burns, broken bones, asthma, anaphylaxis and more.
You can join our Victor Harbor facility for our 5.5-hour training course and receive a certificate from your instructor the same day. This course also includes CPR certification so that you leave with multiple certifications!
Includes: 
HLTAID009 – Provide cardiopulmonary resuscitation

 (CPR)

HLTAID010 – Provide basic emergency life support

HLTAID011 – Provide First Aid
Childcare First Aid 
Are you looking for a course that can have you done in just 6.5 hours of classroom time? Look no further!
This course is designed for those who work in childcare or early education. Officially known as HLTAID012 Provide First Aid in an education and childcare setting; it covers injuries and illness-more common in infants and babies and will teach you to provide appropriate CPR techniques. 
Includes: 
HLTAID009 – Provide cardiopulmonary resuscitation

 (CPR)

HLTAID010 – Provide basic emergency life support

HLTAID011 – Provide First Aid

HLTAID012 – Provide First Aid in an education and care setting
The Meaning of First Aid
Although First Aid may not be able to provide full medical treatment, it is a key step in the healing process. You should provide first aid care until full medical help is available. 
Victor Harbor First Aid Trainer
We can't wait to welcome you into our Victor Harbor training venue. Our trainers are all experienced within the field and are committed to building on their skills by attending regular seminars. 
They are also dedicated to your success and will provide you with support and feedback so that you can pass your training with ease. 
What do I need to Qualify for First Aid in Victor Harbor?
For your certificate to be recognised Australia-wide, you need a Nationally Recognised Statement of Attainment from a registered training organisation. FirstAidPro (#40407) is your most convenient option in Victor Harbor. 
At FirstAidPro, we welcome learners as young as 14 years old. However, it should be noted that any learners under 18 years old will need to complete a parent/ guardian form before their spot is secured. 
The Trusted Course Provider in Victor Harbor
Booking is easy! 
Access our online system, call us on (08) 8382 4677 or contact us here! 
Affordable Training Options
Our courses are at a low price every day, but you can check out our daily deals for more specials and… 
If you happen to find a lower price on an identical course, we'll match it! 
That's our price match guarantee. 
Business Owners:
It's your responsibility to meet all legal requirements to keep your staff and customers safe. Book into a course today.
We can even come to you; please call (08) 8382 4677 to find out more. 
Pathways to Consider in Advanced First Aid Units
Eight New First Aid Units of Competency Released
HLTAID009 Provide cardiopulmonary resuscitation – sometimes referred to as CPR (supersedes HLTAID001 Provide cardiopulmonary resuscitation)
HLTAID010 Provide basic emergency life support – sometimes referred to as BELS (supersedes HLTAID002 Provide basic emergency life support)
HLTAID011 Provide First Aid – sometimes referred to as First Aid (supersedes HLTAID03 Provide First Aid)
HLTAID012 Provide First Aid in an education and care setting – sometimes called Childcare First Aid (supersedes HLTAID004 Provide an emergency first aid response in an education and care setting)
HLTAID013 Provide First Aid in remote or isolated site (supersedes HLTAID005 Provide first aid in remote situations)
Please note First Aid Pro does not deliver these units. They are pathways for other industries.
HLTAID014 Provide Advanced First Aid (supersedes HLTAID006)
HLTAID015 Provide Advanced resuscitation and oxygen therapy (supersedes HLTAID007)
HLTAID016 Manage first aid services and resources (superseded HLTAID008)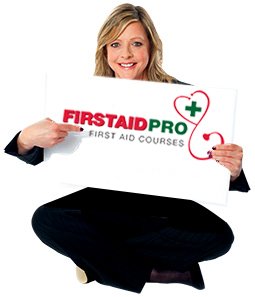 Please thank those involved within your organisation who assisted me in gaining this essential certificate. The office team could not be more helpful and my instructor (John) was both entertaining and professional. As a customer I received value for money and your service is exemplary. Kind Regards,
Enjoyed class. Found informative & entertaining. Kept interesting with real life scenarios. Venue great. Completed in timely manner. It was quick, but all of the major points came across very well. I will definitely book with your company again and will recommend it to others.
Good time. Used as bonding session. Trainers real good. Love night option as would lose business if done during day. Offered his guys to pay for course if willing do in their own time. All accepted.
I really enjoyed the inclusive environment of the trainer from Firstaidpro. I was nervous about the course but I learnt more than I thought I would. I am going back to school feeling much more confident in my role as a 'First Aid Chick'
Great humour made for a great learning experience. Chris was a very considerate of my personal situation in the course which I was appreciative of. Thank you.
My thanks to Sharon McCulloch for the great job she did today with the Applied First Aid + CPR training that I attended today. The training was up-to-date, relevant and taught in an easy to understand manner. Kind regards
I would like to thank Firstaidpro for the delivery of the first aid course. They made everything easy from booking online and I even got my certificate the same day, which I needed to be able to complete my nursing hospital placement. The training facilitator was great, she knew her stuff, she made the day interesting not boring, and everything moved quickly. I would highly recommend using First Aid Pro, I will be back in 12 months to do my CPR refresher training.
Good afternoon, My name is Jessica and I attended my Provide First Aid and CPR courses at Morphett Vale earlier today. I am leaving this feedback to commend your trainer (I think his name was James). He was absolutely fantastic! I have social anxiety which made me nervous to attend this morning, but I have walked out of my training session this afternoon with only appreciation. Your trainer made the course interesting, fun and comfortable - which isn't always easy in a classroom environment! I would very much appreciate it if this feedback made its way to James and if there is any way in which your organisation rewards positive feedback/excellence, I would love for him to be commended as he absolutely deserves it. I am not typically the type of person to send any feedback (positive or negative) but I felt compelled to make an exception in this case. I will be recommending your agency to others, and will be back myself in 12 months for my CPR refresher! A huge thank you once again,
Just wanted to provide some feedback, I found Friday's session very good, the facilitator was great, he knew his stuff and made everyone feel at ease, most enjoyable. I have also received feedback from 1 staff person who attended at Salisbury and 1 staff member who attended at Hewett, both said the same thing, they really got a lot out of it.
Good afternoon, I just wanted to give some feedback in relations to the three employees we sent to the Low Voltage Rescue & CPR course the other week in the CBD. Our employees really enjoyed the interactive training and facility provided. All three took home something new from this day. Kind Regards,
Did the First Aid and CPR course at Marion Hotel yesterday. The trainer was exceptional and ,learnt more about first aid than all my previous courses that I have attended. Very professional and interactive that provided confidence in doing the practical CPR and trauma bandaging. Recommend these professionals to anyone needing first aid certification. Cheers.