First Aid Course South Plympton
FirstAidPro's South Plympton training location is found in Edwardstown Bowling Club.
The courses offered at our South Plympton training venue include:
New First Aid Codes
Previously known as
Edwardstown Bowling Club
1A East Terrace
South Plympton SA 5038
All our available courses in South Plympton
First Aid Course South Plympton
Why Choose Our First Aid Course?
South Plympton First Aid Course Near Me
Now you can get first aid training, and be ready for emergencies! You can get first aid certification to help keep your community safer, or to maintain your professional health and safety requirements.
If you're almost due to renew your first aid certificate, why not complete a first aid refresher course at our South Plympton Training centre? Our courses can be completed in a matter of hours – generally only one day is required. We can also run on-site training for your team, tailoring the content for your specific needs. Why not get in touch with us?
FirstAidPro's HLTAID011 Provide First Aid course is one of the most comprehensive first aid training courses on the market. We also the CPR component of the training as a standalone unit – allowing you to renew annually (a common industry requirement, as recommended by the Australian Resuscitation Council – ARC). And both courses – along with many others – are available from our South Plympton training venue.
You can also get your first aid certificate the same day as you do the course! Once you've successfully completed all the requirements and assessments of the course (all of which are finalised in the one-day face -to-face session) we'll send the certificate to your account in the Vasto online student management system the day you finish.
Book a course today. You can book directly here on the website, or get in touch with us directly through our contact page, or by phoning (08) 7120 2570.
South Plympton First Aid Certification
First Aid Pro offers a variety of nationally recognised, high-quality first aid and CPR courses taught by qualified trainers and assessors. Book with First Aid Pro today!
We're an accredited RTO (Registered Training Organisation) that offers first aid courses endorsed by leading organisations like the Royal Australian College of General Practitioners, and the Australian College of Nursing.
Our fully qualified trainers and assessors are up to date and knowledgeable, and can answer any of your questions. At FirstAidPro we follow the guidelines set by the Australian Resuscitation Council and the Australian and New Zealand Resuscitation Committee.
With your first aid certification through FirstAidPro, you can be absolutely sure that what you learn is of the highest standard. You will also receive a certification that meets all the standards of our regulator, the Australian Skills Quality Authority (ASQA).
Upon Successful completion of the course, your first aid certificate in your Vasto student portal-same day!
CPR First Aid Classes
FirstAidPro offers CPR certification both as an integral part of our flagship HLTAID011 Provide First Aid course, and also as a standalone training module. 
These courses are designed to help you learn the basics of First Aid and CPR, but also more advanced first aid topics such as how to recognise an emergency and what your role as a first aider is.
You'll learn how to perform CPR and first aid on friend or loved one, or anyone in need of medical attention. The Certification is suitable for most professional contexts, potentially allowing you to act as the first aid officer in your workplace or community group.
You'll learn to use an automated external defibrillator (AED), how to provide CPR and rescue breathing, and how to work as part of a 2-rescuer team. You'll also have the chance to practice your first aid and CPR skills in a supportive environment, and in a fun and engaging way.
Car Park Near Me
FirstAidPro's South Plympton training venue is located at Edwardstown Bowling Club on East Terrace. Parking is easily accessible, with plenty of parking spaces off East Terrace close to the venue.
Food & Refreshments
First Aid Pro will normally supply water, coffee and tea – subject to the venue's requirements.
You'll be given a 30-minute lunch break for training courses longer than 4 hours. There various cafes available in the area, or you can purchase food at the Edwardstown Bowls Club. You are also welcome to bring snacks to nibble on during the training.
Available First Aid Courses in South Plympton
If you're specifically on the lookout for South Plympton first aid courses, FirstAidPro can help. Our South Plympton venue offers courses to prepare you for a wide variety of unexpected medical emergencies. No matter what kind of environment you work in, FirstAidPro has a South Plympton first aid course to fit your needs. 
Provide CPR
CPR first aid training is a perfect way to get the experience and knowledge you need when responding to cardiac and respiratory emergencies, like drowning and cardiac arrest.
CPR training can be taken as a stand-alone course or it is included as part of the provide first aid course.
At First aid pro were giving you the choice to choose between a 2-hour face to face CPR training course with pre reading or a 1-hour CPR Express course with training and assessment online whist attending a short assessment only course.
CPR Certification Gained:
Include: Provide CPR – HLTAID001 Provide Cardiopulmonary Resuscitation
Also known as: HLTAID009 Provide Cardiopulmonary Resuscitation (CPR)- Now available
First Aid and CPR Courses in South Plympton
First aid provision includes first aid response, casualty regulation and life assist.
First aid training teaches you how to respond to emergencies, keep casualties under control, and provide life-saving assistance.
The provide first aid course and you'll need 6 hours of in-person training to get first aid certified, plus completion of pre learning
The Express First Aid Course will prepare you for emergency situations in just 1 hour of training. You can do the online work beforehand and meet with a qualified trainer and assessor in person to complete the assessment only course.
You can now take a blended first aid course, with the online portion to be completed before attending 4 hours classroom training and assessment. This is a great way to refresh your first aid skills and knowledge.
New First Aid Codes Now Available

First Aid Pro is now offering the new suite of First Aid Courses
Emergency First Aid 
This course covers everything you need to know about first aid and CPR, from infants and children through to the elderly. With this comprehensive training package, you can be confident that you'll have the skills to support your loved ones, friends and colleagues in a medical emergency.
Some of the topics covered include bleeding, soft tissue injury, fractures, infection control procedures, and medical conditions such as epilepsy. The additional topics of , anaphylaxis and asthma are covered specifically in the HLTAID012 Provide an Emergency First Aid Response in an Education and Care Setting course, as they're a requirement for teachers, childcare workers, and other child educators. This 7-hour course includes pre-learning and assessment with first aid certification.
And if you need to complete your online First Aid training but struggle to find the time for a full day course, we have the option of our online First Aid training – where the theoretical component is handled over the internet in your own time and at your own pace. Once this component is completed, you only need to attend a two hour face to face session to learn the more practical skills (such as CPR), and be assessed on your learning overall. Upon completion of this, you'll be awarded your first aid certificate – valid for 3 years from the date of completion (although CPR needs to be refreshed annually)!
What Is First Aid?
First aid is the process of assisting an injured or sick person until professional medical aid arrives, and the skills and knowledge of how to do so. First aid is a vital skill that every person should know.
As part of your First Aid Certification, you'll learn what the role of a first aider is and how to care for the people who need your help.
Why Learn First Aid?
By learning CPR first aid, you might one day save the life of a loved one, colleague or stranger.
First aid can be as simple as placing an unconscious person in the correct position to breathe freely. Or it might involve more skilled actions, such as Cardiopulmonary resuscitation (CPR) if they have stopped breathing.
If you've completed an first aid course, the acronym "DRSABCD" will look familiar to you (most people remember this as "Doctors ABCD"). It's an action plan of how to assess risks and apply first aid in an emergency, and is just one of the key skills taught in first aid training. The course also includes training with AEDs – automated defibrillator units. The skills taught in this course are suitable for medical professionals, teachers and childcare workers, police, fire fighters, and members of the general public wishing to be prepared for an emergency – anybody who wants to help save a life!
In many professions, first aid training is also a requirement, and generally counts towards your professional development – such as points for continuing professional development (CPD) schemes, or professional development hours for teaching registration.
Your First Aid Trainer in South Plympton
At FirstAidPro in South Plympton, your instructor will be David. He's been a First Aid instructor for over a decade, and brings a wealth of experience to your first aid training. David is a local with many years in the medical profession, he's happy to help you get your first aid certification. David's humour, expertise and passion for first aid training make him a great person to train under.
When he's not training at South Plympton, he trains at the gym and loves to stay fit and healthy.
How do I qualify for First Aid in South Plympton?
To be qualified as a first aid officer or to meet most professional requirements for first aid training, you'll need a first aid certificate with a nationally recognised Statement of Attainment.
First Aid Pro is a nationally recognised training organisation (RTO: #40407) so our training can provide you with exactly the certification you need. With our first aid courses designed to meet ANZCOR guidelines, you can be confident that you'll be equipped with the skills and knowledge to manage an emergency situation.
Most Trusted First Aid Course Provider in South Plympton

FirstAidPro makes learning to be a first aid responder easy and fun. You can book your a course in a matter of minutes, and be on your way to first aid certification. 
First Aid Pro offers different delivery methods to suit all learning styles, and our training is suitable for a very wide audience. You have the option of doing most of your course face-to-face, or doing the theory component of your course entirely online. And all our courses are very affordable.

For groups and workplaces, we can come to you – our courses can be tailored for a wide range of industries, from small businesses to large establishments.

You can book online or call us on (08) 7120 2570. Alternatively, you can email us to get in touch.
South Plympton Cheap First Aid Courses
FirstAidPro offers a wide range of training courses, and our prices are among the lowest in South Australia  – in fact, if you find a cheaper price for your training, we'll match it! We also have daily deals, which can make training even more affordable. If you need first aid training at a reasonable cost, we're a hard choice to beat!
First Aid at Work
FirstAidPro's on-site training can bring first aid training to you. If you find it difficult to coordinate off-site training for multiple staff, or you want to make first aid training into a team building exercise, our team can come to your location with all the equipment and resources needed for the training. We're flexible, scalable and we can tailor our training and course materials for your group's training requirements. Whether you're a small businesses or a branch of a large corporation, we can help get your team first aid certified.
If you want to talk to us about FirstAidPro coming to your workplace – in South Plympton or further afield – we'd love you to get in touch! Just call Cheryl on (08) 7120 2570 or email us at corporate@firstaidpro.com.au

First Aid Course Near Me
South Plympton First Aid Training Locations
Our Provide First Aid, CPR and Provide an Emergency First Aid Response in an Education and Care Setting courses can now be taught at South Plympton – and multiple other locations around Adelaide and wider SA, including:
Pathways to Consider in Advanced First Aid Units and Advanced Resuscitation
Eight New First Aid Units of Competency Released
HLTAID009 Provide cardiopulmonary resuscitation – sometimes referred to as CPR (supersedes HLTAID001 Provide cardiopulmonary resuscitation)
HLTAID010 Provide basic emergency life support – sometimes referred to as BELS (supersedes HLTAID002 Provide basic emergency life support)
HLTAID011 Provide First Aid – sometimes referred to as First Aid (supersedes HLTAID03 Provide first aid)
HLTAID012 Provide First Aid in an education and care setting – sometimes called Childcare first aid (supersedes HLTAID004 Provide an emergency first aid response in an education and care setting)
HLTAID013 Provide First Aid in a remote or isolated site (supersedes HLTAID005 Remote first aid)


Advanced First Aid Units as further pathways. First Aid Pro does not provide these courses,
HLTAID014 Provide Advanced First Aid (supersedes HLTAID006)
HLTAID015 Provide advanced resuscitation and oxygen therapy (supersedes HLTAID007)
HLTAID016 Manage first aid services and resources (superseded HLTAID008)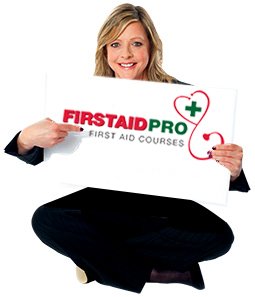 Please thank those involved within your organisation who assisted me in gaining this essential certificate. The office team could not be more helpful and my instructor (John) was both entertaining and professional. As a customer I received value for money and your service is exemplary. Kind Regards,
Enjoyed class. Found informative & entertaining. Kept interesting with real life scenarios. Venue great. Completed in timely manner. It was quick, but all of the major points came across very well. I will definitely book with your company again and will recommend it to others.
Good time. Used as bonding session. Trainers real good. Love night option as would lose business if done during day. Offered his guys to pay for course if willing do in their own time. All accepted.
I really enjoyed the inclusive environment of the trainer from Firstaidpro. I was nervous about the course but I learnt more than I thought I would. I am going back to school feeling much more confident in my role as a 'First Aid Chick'
Great humour made for a great learning experience. Chris was a very considerate of my personal situation in the course which I was appreciative of. Thank you.
My thanks to Sharon McCulloch for the great job she did today with the Applied First Aid + CPR training that I attended today. The training was up-to-date, relevant and taught in an easy to understand manner. Kind regards
I would like to thank Firstaidpro for the delivery of the first aid course. They made everything easy from booking online and I even got my certificate the same day, which I needed to be able to complete my nursing hospital placement. The training facilitator was great, she knew her stuff, she made the day interesting not boring, and everything moved quickly. I would highly recommend using First Aid Pro, I will be back in 12 months to do my CPR refresher training.
Good afternoon, My name is Jessica and I attended my Provide First Aid and CPR courses at Morphett Vale earlier today. I am leaving this feedback to commend your trainer (I think his name was James). He was absolutely fantastic! I have social anxiety which made me nervous to attend this morning, but I have walked out of my training session this afternoon with only appreciation. Your trainer made the course interesting, fun and comfortable - which isn't always easy in a classroom environment! I would very much appreciate it if this feedback made its way to James and if there is any way in which your organisation rewards positive feedback/excellence, I would love for him to be commended as he absolutely deserves it. I am not typically the type of person to send any feedback (positive or negative) but I felt compelled to make an exception in this case. I will be recommending your agency to others, and will be back myself in 12 months for my CPR refresher! A huge thank you once again,
Just wanted to provide some feedback, I found Friday's session very good, the facilitator was great, he knew his stuff and made everyone feel at ease, most enjoyable. I have also received feedback from 1 staff person who attended at Salisbury and 1 staff member who attended at Hewett, both said the same thing, they really got a lot out of it.
Good afternoon, I just wanted to give some feedback in relations to the three employees we sent to the Low Voltage Rescue & CPR course the other week in the CBD. Our employees really enjoyed the interactive training and facility provided. All three took home something new from this day. Kind Regards,
Did the First Aid and CPR course at Marion Hotel yesterday. The trainer was exceptional and ,learnt more about first aid than all my previous courses that I have attended. Very professional and interactive that provided confidence in doing the practical CPR and trauma bandaging. Recommend these professionals to anyone needing first aid certification. Cheers.