Study The Latest Version Of This Course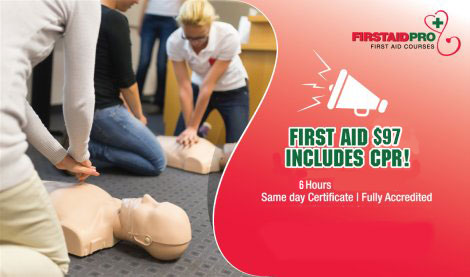 HLTAID003 Provide First Aid
HLTAID002 Provide Basic Emergency Life Support (included)
HLTAID001 Provide Cardiopulmonary Resuscitation (included)
Face-to-Face (No Online Assessment)
Knowledge Assessment: In class
Practical Assessment: In class 
Is the course nationally accredited?
Alternate / Former Course Names
HLTAID011 (new code) 
HLTFA311A (old code)
Apply first aid
Senior first aid
Workplace Level 2
First aid refresher
Regular DAILY DEALS
Price match on comparable courses
HLTAID003 Provide First Aid
Face-to-Face
HLTAID003 is still industry recognised but has now been superseded by HLTAID011 Provide First Aid.
First Aid Pro Adelaide is a trusted, nationally accredited training provider (RTO 40407) offering a range of first aid courses to individuals and workplaces across Adelaide. First Aid Pro Adelaide prides itself on providing quality hands-on training in an open and friendly atmosphere.
The majority of our training facilitators are nurses or healthcare workers who can impart first-hand knowledge of dealing with major and minor emergencies, so you can be assured of high-quality practical training. Thorough, professional and experienced, our friendly facilitators will walk you through a series of hands-on demonstrations, to build the practical skills and confidence needed to step-up as a first responder in an emergency situation.
HLTAID003 Provide first aid is the industry benchmark for first aid training as it offers the complete suite of first aid training modules and covers all the units of competency as outlined in HLT first aid training obligations, including:
HLTAID001 Provide cardiopulmonary resuscitation
HLTAID002 Provide basic emergency life support
HLTAID003 Provide first aid
Our accredited First Aid Training covers how to use the DRSABCD protocol, how to respond to common medical emergencies, including asthma and anaphylaxis, along with how to apply CPR
Ideal for healthcare professionals, nurses, aged care, trades and professional organisations, this course will deliver all the skills and competencies necessary to take decisive action in a medical emergency.
At First Aid Pro your health and safety is our priority. Infection control measures and COVID-19 practices are applied across all of our training facilities. Please remember if you are unwell or experiencing any symptoms we ask that you contact us to reschedule your training. For further information please email courses@firstaidpro.com.au.
First Aid Course Duration (Face-to-Face)
All our first aid courses have been streamlined to deliver maximum efficiency.  The Provide first aid course is a 5.5-hour classroom-based course which includes lots of hands-on practical training and built-in assessments. Successful course completion will require participants to complete both knowledge and practical assessments in class.
No online or out of class assessment is required. Every assessment task is completed during the 5.5 hour classroom session. 
All candidates who successfully complete 'Provide first aid' will be issued with the following accredited units of competency
– HLTAID001 Provide cardiopulmonary resuscitation
– HLTAID002 Provide basic emergency life Support
– HLTAID003 Provide first aid
  Digital certificates are issued via your student portal and will be sent on the same day or within 24 hours of completing the course.  
In order to issue your certification we need to have received your USI (unique student identifier) number 24 hours prior to course commencement. 
All students undertaking a nationally recognised VET training program need to have a USI (unique student identifier number). If you have undertaken any vocational training since Jan 2015 it is likely you already have a USI number. The USI number enables the government to keep a secure an online record of all your learning so it is easily accessible in the one place.
If you do not have a USI number they are quick and easy to create by clicking on the following link https://www.usi.gov.au/your-usi/create-usi.
Australian College of Nursing (ACN)
HLTAID003 Provide first aid is a nationally accredited course which has been endorsed by the Australian College of Nursing (ACN).  Provide first aid qualifies for 6 hours of CPD as determined by the Nursing and Midwifery Board of Australia.
First Aid Course locations across Adelaide
First Aid Pro Adelaide provide thorough, professional and accredited first aid training. We aim to make first aid training and compliance convenient, cost-effective and easily accessible. We deliver a range of first aid courses and first aid refresher courses in the Adelaide CBD, suburbs and throughout South Australia. Wherever you live, you'll never be too far away from our training centres which can be found at the following locations:
Adelaide CBD – Level 3/ 50 King William Street, Adelaide 5000
Salisbury – 6/89 John Street, Salisbury, SA 5108
Morphett Vale – 12/230 Main South Road Morphett Vale 5162
Marion – Marion Hotel Function Room, 849 Marion Road, Mitchell Park 5043
Mount Barker – Mount Barker Town Hall, Corner of Gawler and Stephen Street Mount Barker
Mawson Lakes – Mawson Lakes Hotel 10 Main Street Mawson Lakes, SA 5095
Port Adelaide – The Port Club, 9 Queen Street, Alberton SA 5014
Tonsley – 1284 South Rd, Clovelly Park, Adelaide SA 5042
Murray Bridge – 212 Adelaide Road, Murray Bridge SA 5253
Adelaide CBD Training Room
First Aid Training Content Covered
The course covers the complete range of skills necessary to manage and evaluate emergency situations, how to apply emergency care to sick or injured persons and how to manage casualties whilst waiting for professional help to arrive. Topics covered include:
Management of conscious and unconscious patients
CPR for adults, children and infants
When and how to use an AED machine
When and how to use an EpiPen
Implementing the DRSABCD protocol
First aid response for bleeding, trauma and shock
Respiratory emergencies including asthma
Cardiac emergencies including heart attack and stroke
Fractures, dislocations and soft tissue injuries
Head, neck and spinal injuries
Anaphylaxis, seizures and convulsions
Snake bites, spider bites, stings and poisoning
First aid response for burns, heatstroke, hypothermia and hyperthermia
Disease control
Legal obligations of the first responder
First Aid Certificate - Nationally Accredited
* Get your Nationally Accredited Certificate on the same day.
After successfully completing your first aid training with Firstaidpro Adelaide, you will receive a fully Accredited Recognised Statement of Attainment through your student portal.